Press Kit
Perspective - Your Journal. Your Journey.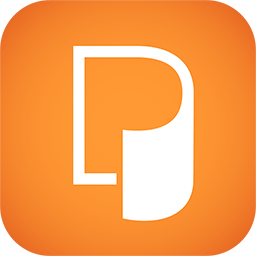 What is Perspective?
Perspective is a journaling app that sets out to address the most common problem all users face:
How to make journaling a consistent practice.
It's very common to see folks journal for a couple of weeks then stop. It can be hard when looking at a blank page or flashing cursor to come up with something insightful every day. Even if you have a good routine prompting you to journal, keeping it going requires a reward.
So we looked at how to increase the reward aspect of journaling.
Features such as Weekly Reviews, Inspiration Questions, Tracking of Moods, Interests, Goals and Habits all provide more reasons to launch our app and write something and offer short term rewards that no other apps do. Even if you don't feel like saying anything, just indicating your mood or whether you spent time on something you love is valuable when looking back.
And looking back is where Perspective really shines!
Inspired by Tim Urban's TED talk on Procrastination, we wanted to give our users the ultimate view on life. So at the very center of Perspective is a 'Life Calendar' displaying the proximity to your 90th birthday. Moods and Insights made in your journal are given center stage in your 'Life Calendar' designed to help you get to the big question…
Are you happy with how you're spending your time?
 Why Perspective?
Because we put things into context. Our fast journaling approach, combined with tracking your mood in the context of your entries, provides a great opportunity for self-reflection, and introduces the concepts of "future self" and "past self" to journaling. The main focus of the app is to help you:
Practice mindfulness and increase self-awareness
Gain perspective on past experiences
Understand what things are most important to you
Increase your mental health, enhance the feeling of well-being, and become happier
Develop the ability to put things into context as they happen
Perspective is completely free and 100% private.
Testimonials
(gathered from our Facebook group)
"I really do love this app so far. I have always struggled with the use of these types of apps, but I can totally see myself continuing to use this." — Hannah
"I really like the experience so far. I think it's an awesome idea and could really be helpful to a lot of people." — Kelsea O'Brien
"It's a great App. I'm loving it!!" — Tania Martins
"I love the way journaling feels almost as if I am sending someone a message, as if there is someone on the other end." — Helen
"Can't find any issues…I love it. You guys worked hard on this; it shows. Thanks, I use it every day." — Carol Alaniz
"I'm loving everything about this app. This fills the void in journaling that I've been craving – a journal of my thoughts without cramping my hand from writing it out." — Ria
"The new weekly review is amazing. The way your interests are categorized by color, each day is represented not by words but emotions, and you can clearly assess your week as an overview all from a small, simple, color coded view is brilliant. Well done!" — Caroline Hagär
"Set up was really easy – and so far I am just blown away with the things I can track with this app. I have struggled to use my Bullet Journal and may have to find another use for the leather TN's I have purchased. This app so far is incredible." — Melanie Tash
"I have always loved the notion of journaling, but I have found that keeping the habit and making it meaningful can be a challenge. Perspective has been a game-changer for me. Daily and weekly prompts help keep my goals for journaling on the front burner, while journaling prompts give me ideas on days when I am feeling less than inspired.The interface is simple but elegant, yet can also be customized to match your personal tastes. Best of all is Perspective's mission to help its users better judge their days and weeks (good, so-so, or bad) by allowing them to record and review their experiences. It's easy to say "what a terrible week" because of one failure or disappointment, but when I am visually reminded of the many positives over the last seven days, my perspective shifts and I find I am more optimistic and grateful. I believe that shift in perspective is the real value of journaling that so many of us miss in a more traditional format, and what makes this app essential." — Jenine Ziemann Sansosti
Screenshots
(various sizes and more images available in the downloadable pack)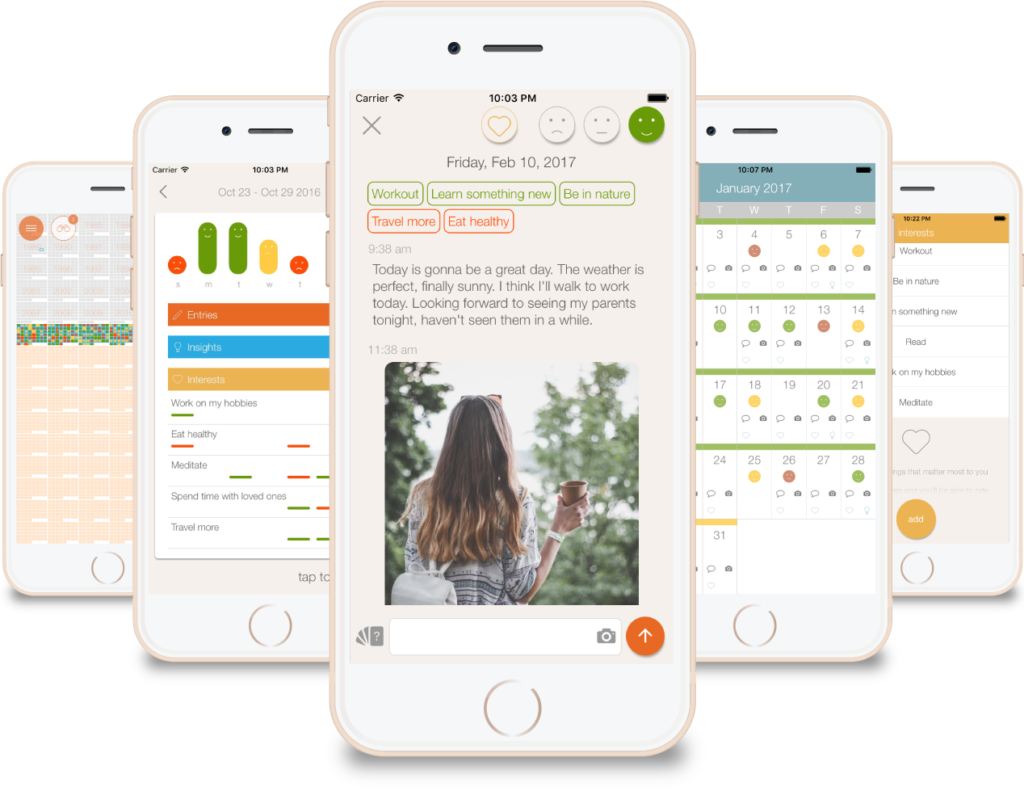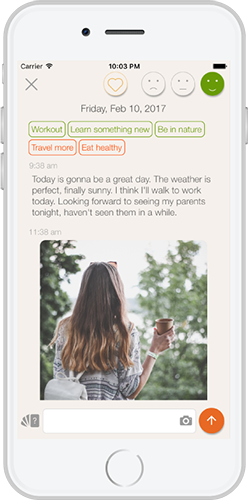 Journal input screen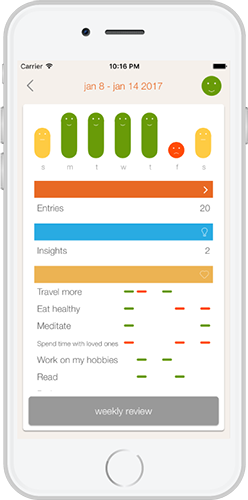 Weekly review summary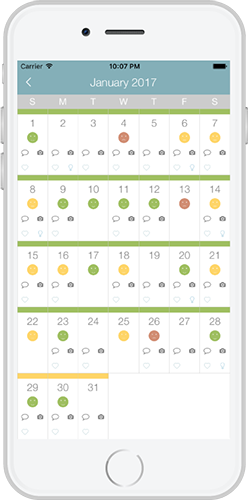 Monthly view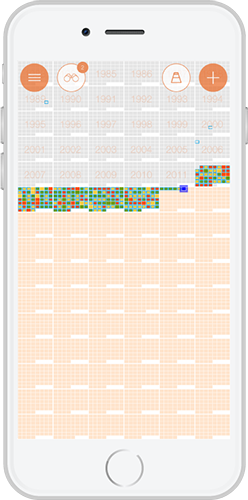 Life Calendar (displaying 5 years of data)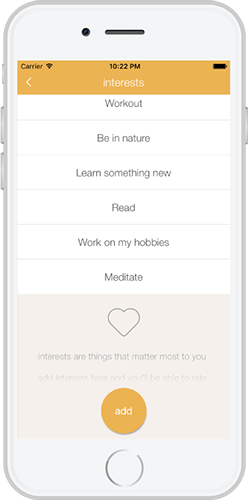 List of added Interests, Goals, or Habits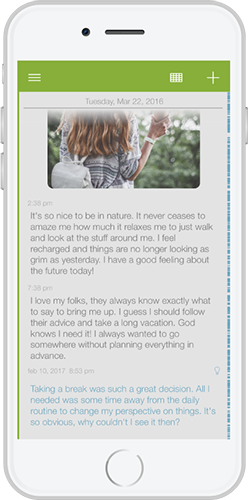 Journal view with insight in blue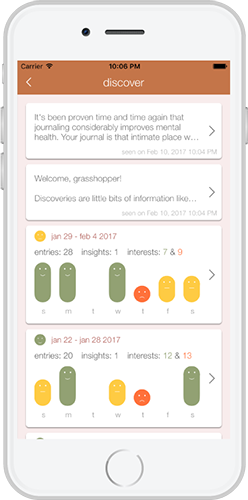 Discover new weekly reports and words of wisdom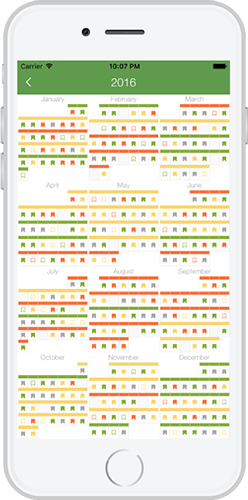 Yearly view with mood indicators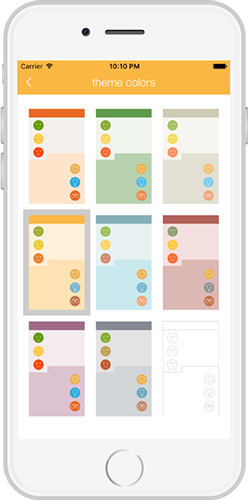 Themes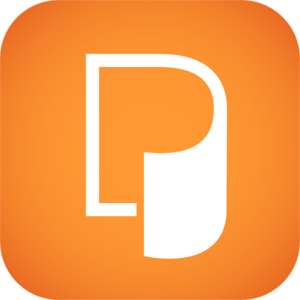 Logo
Further Details
Release Date:
March 1st, 2017
Price:
FREE
Platform:
iPhone (we hope to release for iPad, OSX, and Android soon)
Store Link:
https://itunes.apple.com/app/id1186753097
Contact:
About Us
Elliott Dobbs and Horea Burca formed Blinky in 2016 having worked together on various projects since 2011. Elliott is based in Florida, US, and Horea in Cluj, Romania. Having never actually met in person, they work remotely over the 7 hour time zone difference.
They both share responsibilities in the conceptual design and fun ideas department. Whilst Horea takes the reins on all things code related, Elliott handles user experience and design.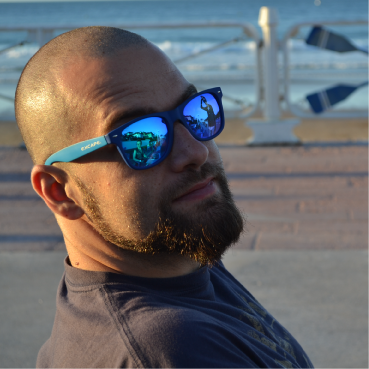 Horea Burca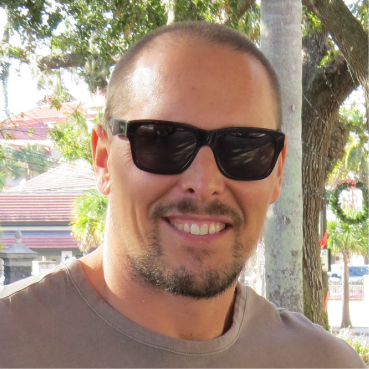 Elliott Dobbs